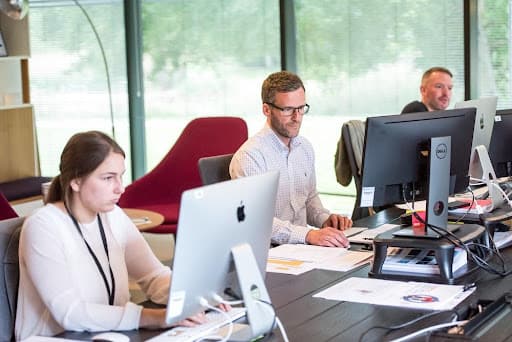 Business process outsourcing (BPO) is a burgeoning industry that caters to various enterprises that need lead generation and other necessary processes. They are companies that address various concerns and provide support for other companies. They are typically call centers that employ people who have specialized skills to take care of different issues quickly and efficiently.
Efficiency is core to BPO productivity as they must consistently work to achieve targets to help their clientele. Managers must be able to coordinate their efforts with their coworkers to ensure that they reach their goals. Likewise, agents must be able to deliver and hit the daily quotas to ensure they can contribute to the company. It's a complex relationship that emphasizes collaboration to achieve results.
Here are some tips to increase BPO productivity.
Skills-based routing process
Managers can work with the technical department to ensure that agents receive inbound calls within their specialties. For example, outbound call agents can use a predictive dialer to help them connect with leads and follow up on various requests and concerns. Such a program will increase agent productivity and help the team achieve results. Management must invest in applications that can help identify the strengths of their agents to ensure that clients will receive the best possible response and service.
Live call monitoring and coaching
Inexperienced call center agents will benefit from their immediate supervisors' live call monitoring and coaching. Their superiors can listen to agents' live calls, and when they need support because of their relative inexperience, their managers can effectively coach them with the protocols. It will help develop the agents as they receive guidance and feedback that will help them attend to various client needs.
Inter-agent chat facility 
Another way to increase productivity without the caller realizing it is to install an inter-agent chat facility. Agents new to the team can contact their more experienced colleagues for assistance via a chat facility. It can be done one-on-one or one-to-many, with personnel supporting the agent while they don't put their client on hold. This will also bolster the leadership capabilities of senior agents and prepare them for a management-level position.
Give agents autonomy
Call center processes typically follow a set of pre-programmed system responses. This can be monotonous for some agents and lead to decreased efficiency and productivity. A manager can prevent such an instance by giving the agents freedom to respond to various customer service needs as they see fit can help increase their engagement and production. This will help them relate to their clients better and help them develop thinking on their feet.
Provision of breaks
A call center is a stressful environment because of angry customers, meeting team quotas, deadlines, and strict protocols. As a result, agents can feel that they're burnt out, and this can lead to decreased performance. Managers can prevent this by allowing their agents to take breaks during their shifts to grab a breather or a snack or regain self-control. This will improve performance as agents feel they have full control of their time.
Conclusions
Business process outsourcing companies can increase productivity by instituting several protocols. Their managers must work with their agents to ensure they perform at peak levels.