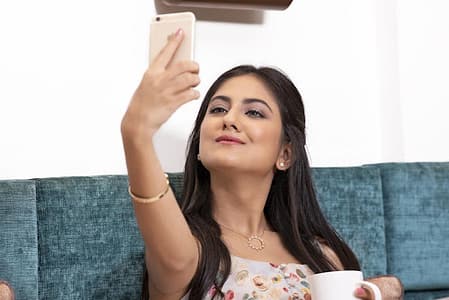 Are you trying to take the perfect selfie?
If you're excited about an event, it's normal for you to want to have pictures or selfies, especially with the wide range of technology on your smartphones. You probably want the best one so you can capture the moment and share it with others.
It's easy to take a basic selfie, but taking the perfect one is a little more involved. Follow these steps to get the best results every time you want to take a selfie.
Find Your Light
How to take a perfect selfie is all about finding the right illumination. Step outside or close to a window if you can because natural light is always preferable.
If you're indoors, try to avoid using flash. Instead, set up some soft lamps around you to provide a gentle, even light.
Position yourself so that the light is hitting your face from the side—this will create shadows that will help define your features. Then, get in close to the camera and tilt your head slightly up or down to find the most flattering angle. And don't forget to smile!
Know Your Angles
Find the positions that are most comfortable for you by experimenting with a variety of them. Take a few practice shots to ensure that the lighting is flattering and that you are happy with the results.
Make sure the camera is at eye level and that you are focusing on the lens when you are prepared to capture the ideal selfie.
Be Confident
If you're not confident in yourself, it'll show in your photos. If you don't believe in your own beauty, how can you expect others to see it? The key to how to take a good selfie is to be confident.
Believe in yourself and your beauty, and it will shine through in your photos. Stand up straight, chin up, and shoulders back. Smile as you mean it.
Be proud of who you are. These are the ingredients for taking the perfect selfie.
When you're confident, it shows in your photos. People will see the beauty that you see in you. So believe in yourself, and take the perfect one.
Edit Your Photo
Edit your photo to make sure everything looks perfect. Crop out any unwanted background clutter and use filters to enhance your features.
The main topic of your photo can be highlighted while the background is removed with a background remover, allowing you to use your new image in a variety of new layouts and settings.
Finally, post your selfie for the world to see!
Perfect Selfie Tips: The Art of Being the Natural You
In order to take the perfect selfie, it is important to be in the right frame of mind.
Set up such that the light is coming at you from the side; it cast shadows that will highlight your features. Make sure the lighting is nice and that you are delighted with the outcome by taking a few practice photos.
Finally, be confident and remember that the beauty you see in yourself will be seen by others.
Keep coming back to check out our other blogs to learn more about technologies and how they will be beneficial in your daily life.